following passions and family tradition
Amrita Park Meadery is a small boutique meadery that specialises in crafting small, carefully curated batches of mead. Each creation is handcrafted using locally sourced, premium raw honey and ripe, seasonal fruits from the area.
Mead is an alcoholic beverage that has been enjoyed for thousands of years. It is made primarily from fermented honey, water, and yeast and is one of the oldest known fermented beverages with a rich history dating back to ancient times in various cultures around the world. Mead can range from being dry and crisp to sweet and syrupy, with a diverse range of flavours that can be achieved by incorporating fruits, spices, herbs, or other ingredients during fermentation.
Try it,
you will love it!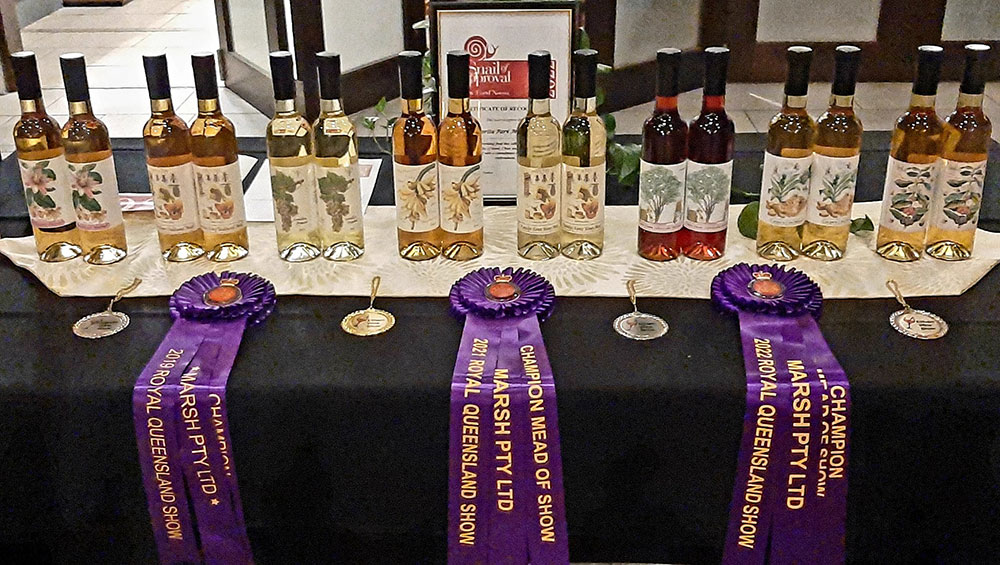 Our Story
Continuing a long family tradition of quality boutique mead making.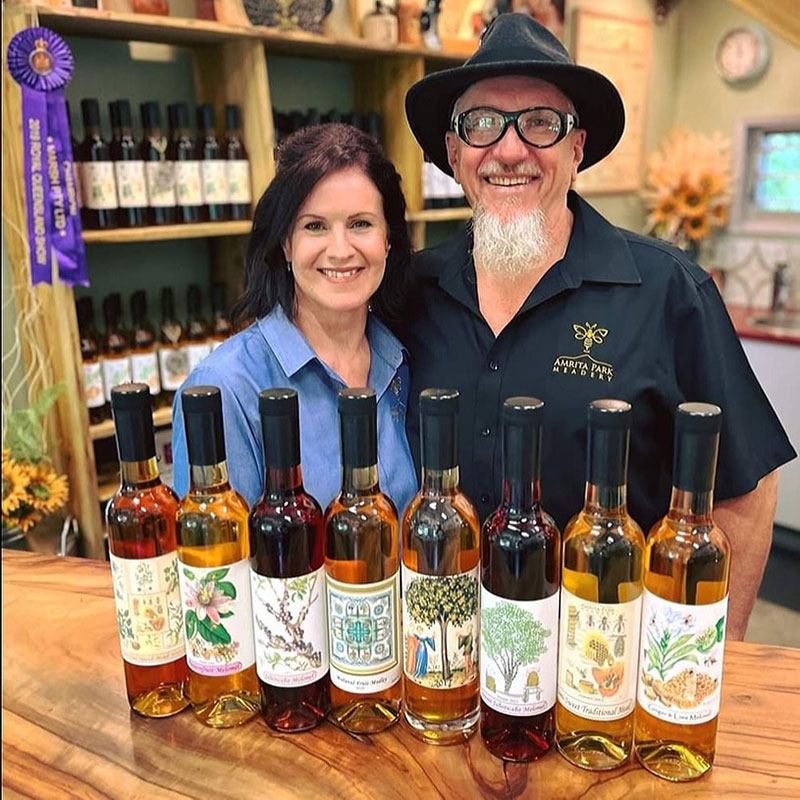 Meet Nicola & Andy
Distinguished as Queensland's first dedicated Meadery, cellar door and tasting room, Nicola and Andy are carrying on the tradition of mead-making initiated by the renowned award-winning mead maker, Dennis "Poppo" Coates, back in the mid 1930s.
Following the principles of Slow Food,
and awarded a Snail of Approval by Slow Food Noosa .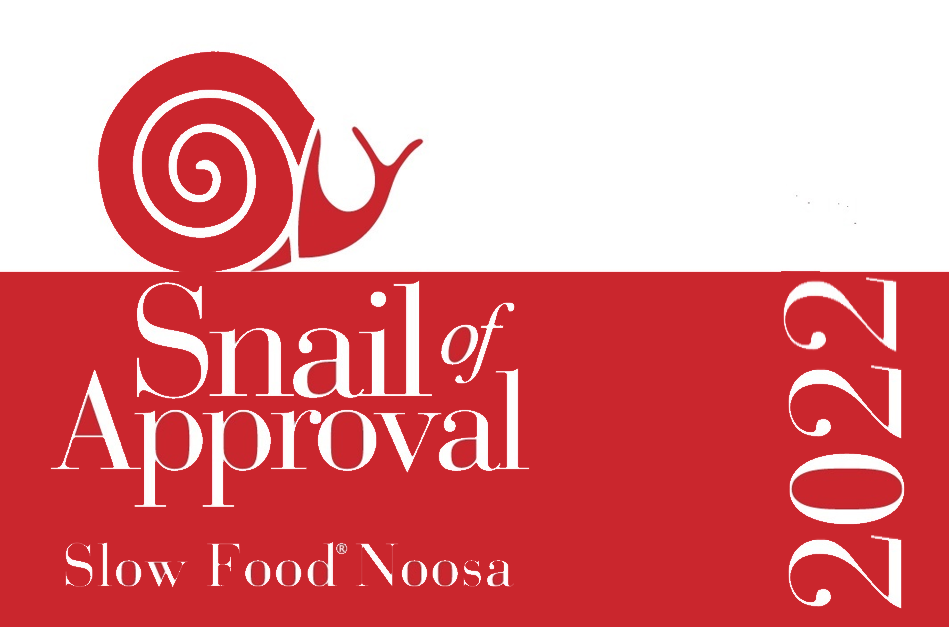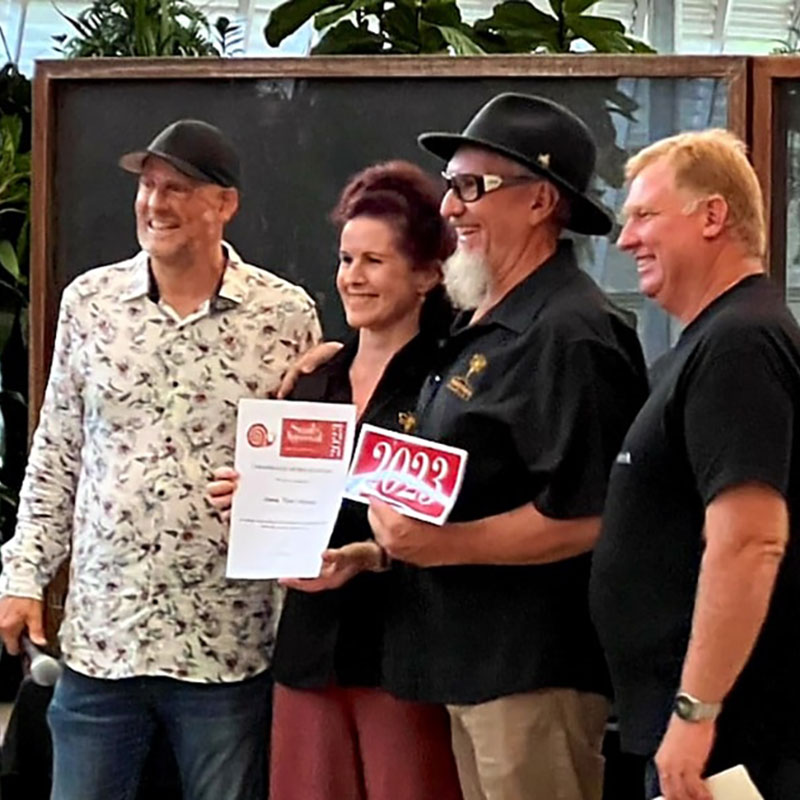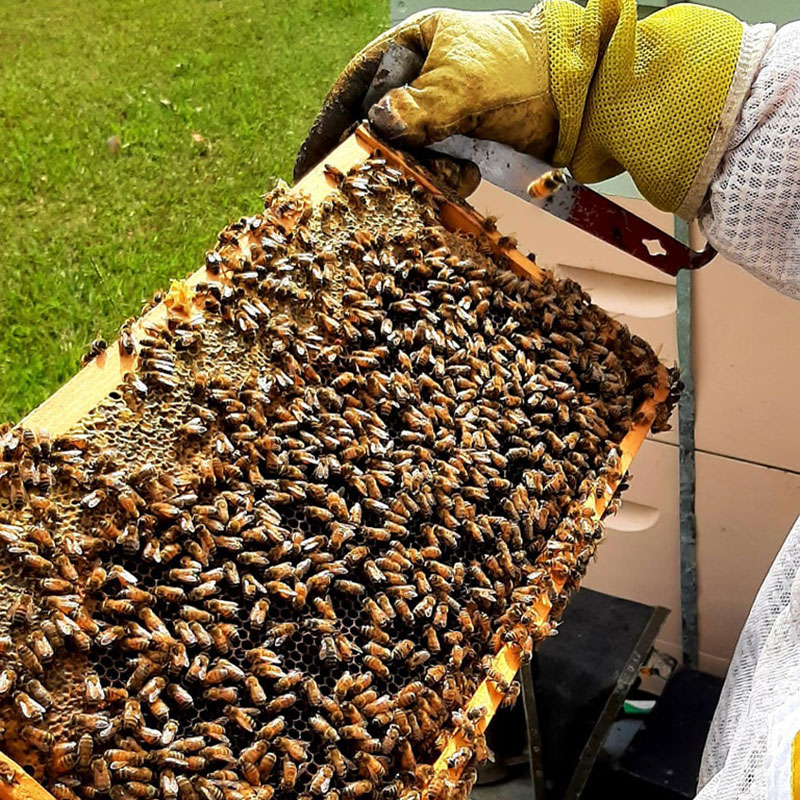 Honey
straight from the hive.
All our meads are produced from
locally sourced honey, including honey from our own hives!
Meet the Mead Makers
The passions behind Amrita Park Meadery.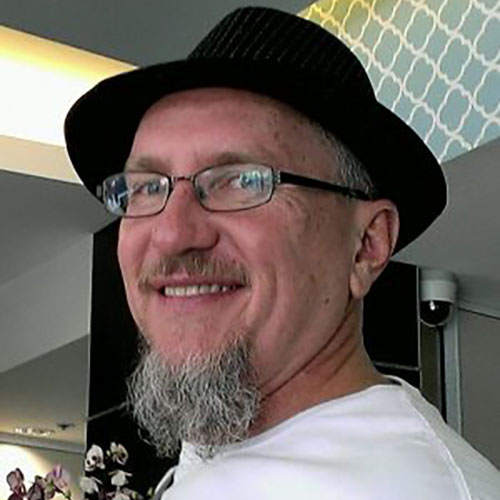 Andy Coates
Andy comes from a family with a long history of beekeeping and mead making. After a successful career as an Aircraft Engineer Andy has followed his passion for all things MEAD and moved to beautiful Pomona in the Noosa Hinterland with his partner Nicola and created Amrita Park Meadery, Queenslands first Meadery, Cellar door and tasting room where the principles of Slow Food (Good, Clean & Fair) are practised everyday.
Andy has honed his skill as a mead maker over the years with the watchful eye and plenty of advice from his grandfather Dennis "Poppo" Coates, who loved to visit the Meadery right up until he passed away in June 2019. As a strong advocate for Mead and a firm believer in educating the masses to the benefits of MEAD, Andy is looking forward to the challenges of  growing Australia's fledgling MEAD industry in conjunction with all MEAD makers, both amateur and professional.
Nicola Cleaver
Nicola shares the MEAD passion and brings unrivalled experience in flavour profile matching, fermentation knowledge and food science from a distinguished career as a qualified Chef. Nicola also shares the dedication for Slow Food principles and was instrumental in having Amrita Park Meadery attain an International Slow Food Snail of Approval.
Nicolas experience is further enhanced from her hands on expertise as a Certified Orthopaedic Cast Technician. With an uncanny ability to think on her feet and experiment with new techniques, Nicola is at the forefront of Australian Mead Makers.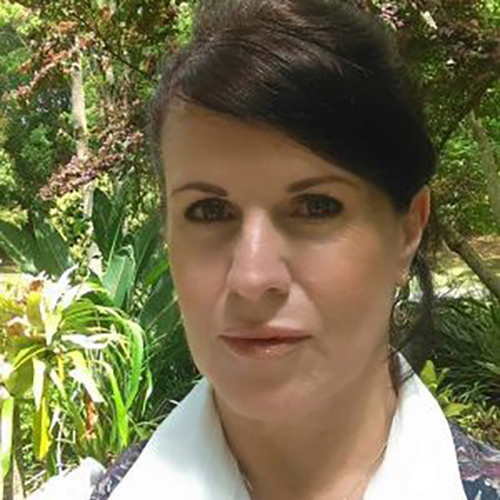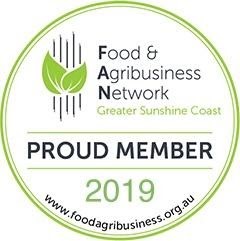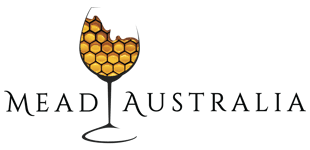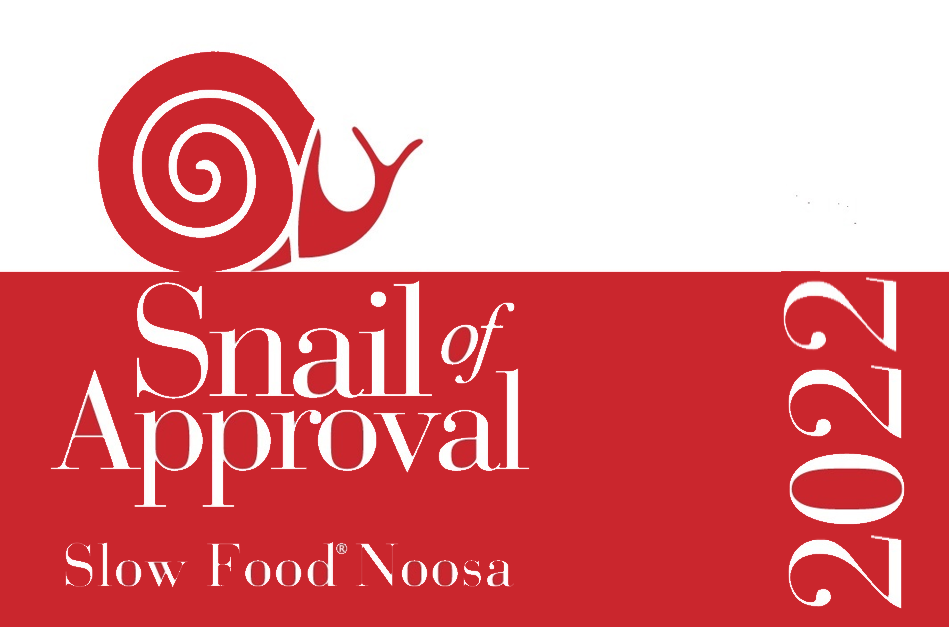 "Drawing inspiration from his mead making grandfather, Dennis "Poppo" Coates, Andy has honed his skill to keep the tradition alive and add his own spin to the mead making process."
Inspired by "Poppo" Coates
Generations of tradition.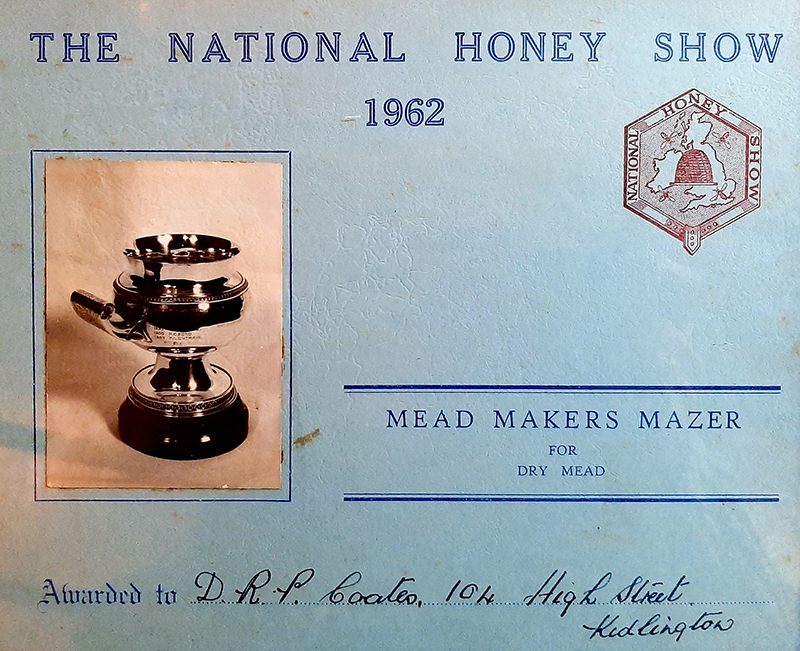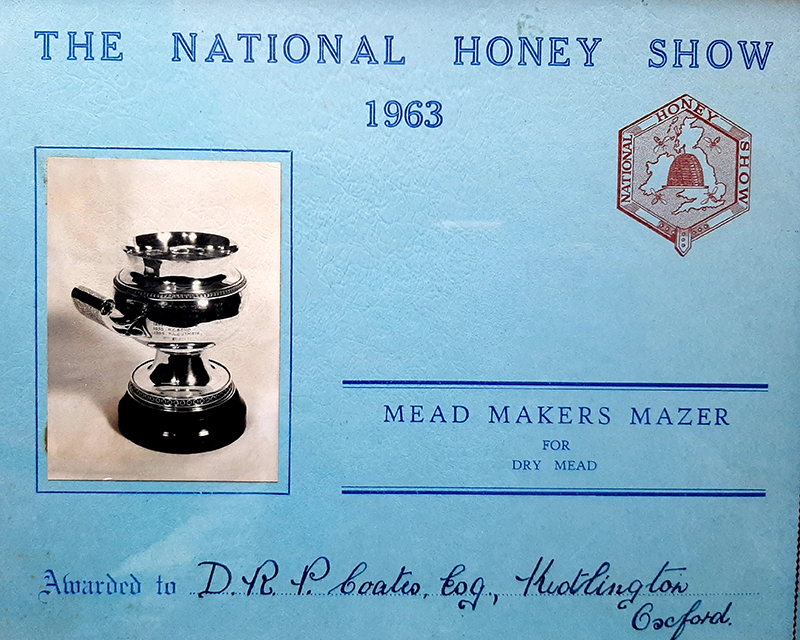 The Family Mead Connection
Amrita Park Meadery is continuing a tradition of high-level mead making started by Andy's grandfather, Denis "POPPO" Coates, in 1934 when he was 14.
Dennis Coates started tending bees as part of his and his father's small market garden and fell in love with beekeeping. He also discovered mead at this early stage and became passionate about developing his skills and techniques as a mead maker (Mazer).
Poppo Coates joined the British Navy during the war and served on several ships, including HMS Matchless, before returning to his bees and mead-making after the war.
Poppo was involved in all aspects of honey production, including Queen rearing and enjoyed in-depth discussions with Brother Adam from Buckfast Abbey, the creator of the famous Buckfast Bee.
In mead making, Poppo went on to win many awards for both his honey and his mead, including the highest accolade for mead, the "Mazer Cup", which he won outright in 1962 and 1963.
In 1966 Poppo immigrated to Australia with his family, where he discovered that honey could be produced all year round. He promptly became a successful beekeeper specialising in comb honey for both the domestic and export market and became a prolific award-winning mead maker taking 1st place awards in mead shows and competitions throughout Australia for many years, including the Royal Easter Show in Sydney year after year.
His oldest Grandson, Andy Coates, took over mead-making duties under his watchful eye and created Amrita Park Meadery, where the art of fine Mead making continues along with the tradition of taking out top honours in Mead shows and Competitions across Australia.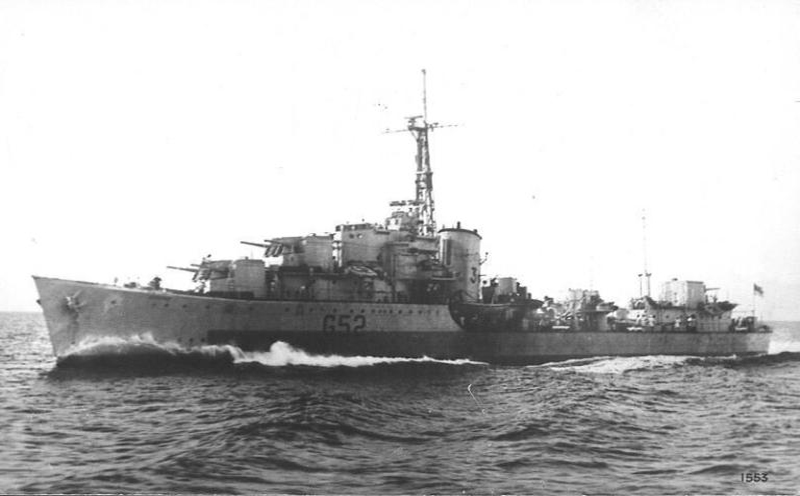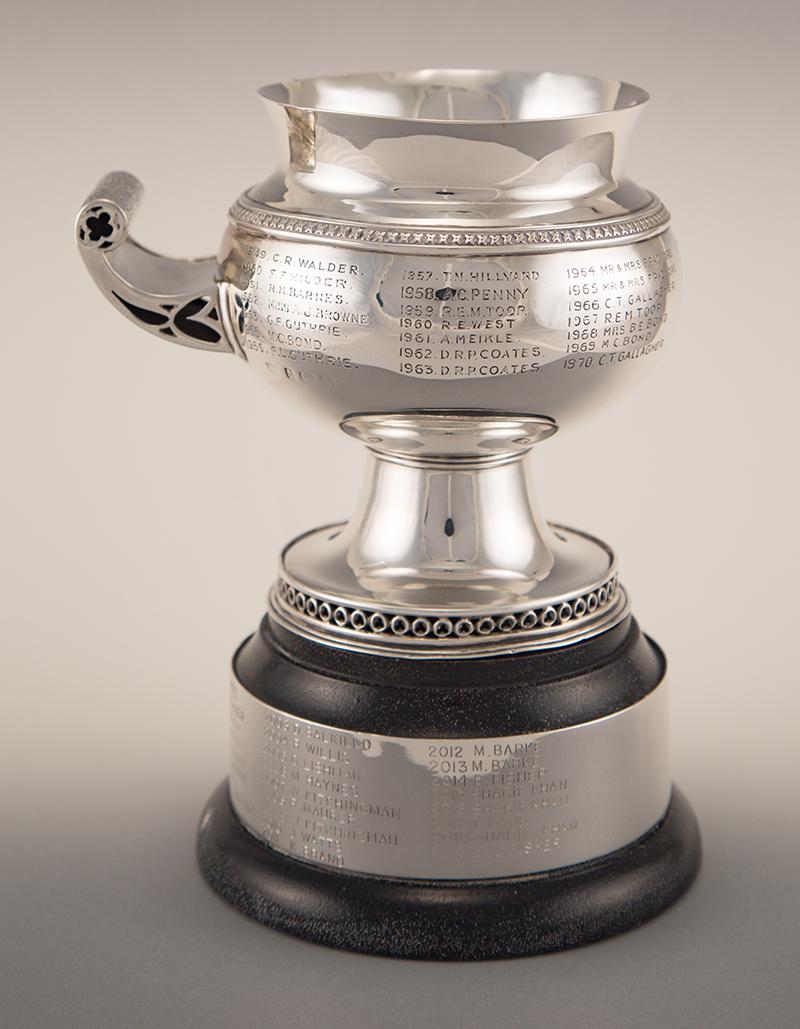 "Poppo" Coates won the following cups:
– Mead Makers Mazer (pictured), awarded for one bottle of dry mead in 1962 and 1963
– Moorcroft Bowl, awarded for any interesting or instructive exhibit related to bees or beekeeping in 1961 and 1962.
– Mrs BW Hamlin Cup, awarded for six 1oz blocks of beeswax, matching in all respects in 1963.

for the latest from the meadery